10 secrets to go from tourist to local
A must-visit destination in the Mediterranean
A lot has been written about Tel Aviv and its attractions, but how do true Tel Avivians spend their time in the city?
Here are 10 secrets by Noa Rosin, our Tel Aviv insider:
Markets
Brunch time
Juice city
Sporty town
Hummus delight
Beach life
Romance
Dizengoff center
White City
Night life
How To Get Here
Unable to find directions, please try again.
Noa Rosin, Time Out Tel Aviv food reporter
Living, breathing and eating Tel Aviv
Follow Noa, a Tel Avivian for the past 10 years, host of food and lifestyle TV shows and Time Out Tel Aviv food reporter as she shares her 10 secrets to go from tourist to local.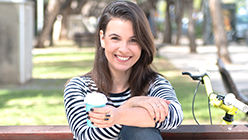 1. Markets
Tel Aviv markets are a must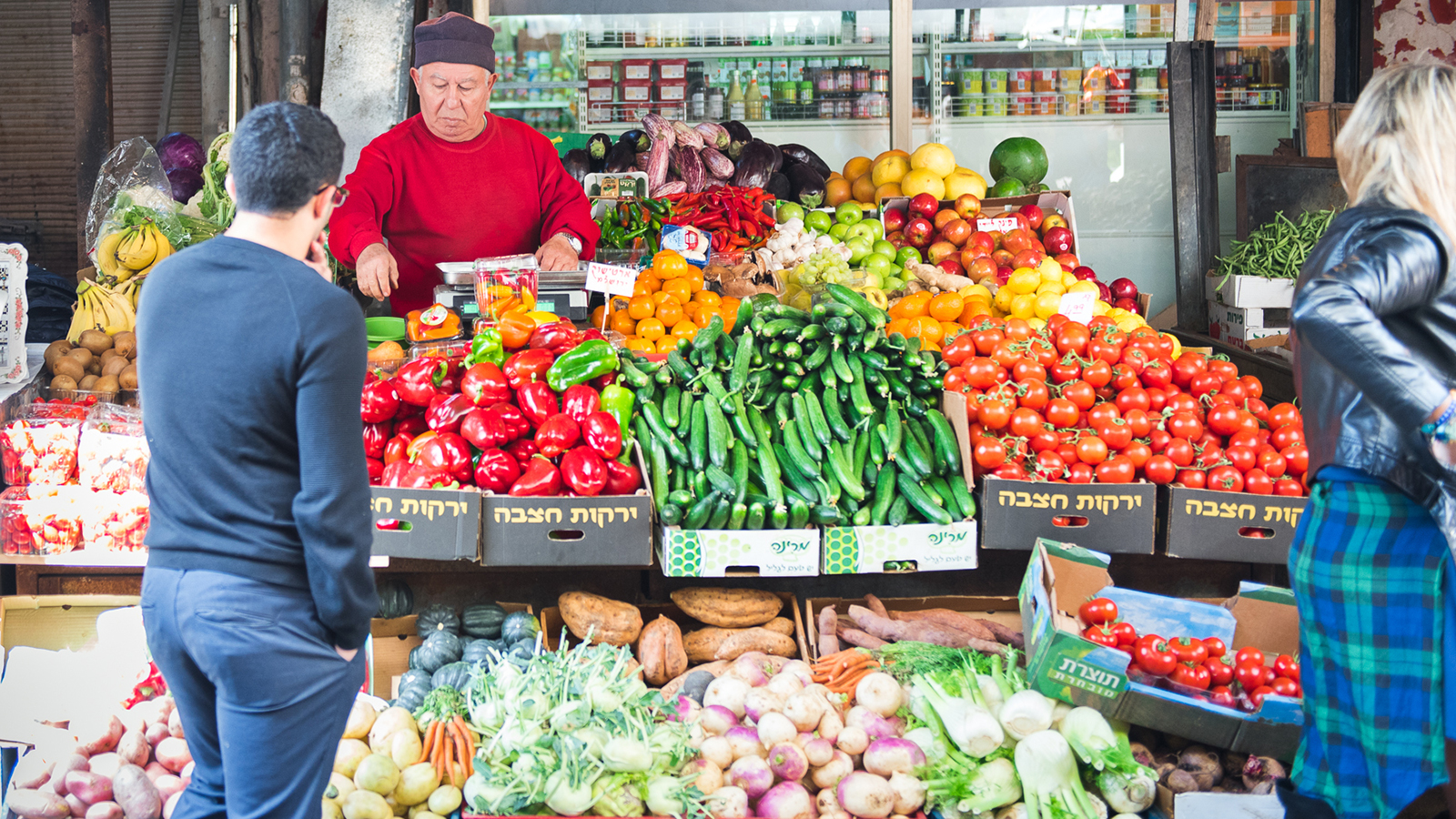 Every market has its own unique atmosphere and products, and every Tel Avivian has their own favorite suppliers for meat, fish, vegetables, condiments, etc.

Tel Aviv's main market is Carmel Market, which in the past years became an incredible culinary destination; alongside the vegetable and fruit stands emerged delis, bistros, bars and restaurants which are using the market's fresh produce to serve delicious food. The Carmel Market is now a place where locals hang-out and not just shop for groceries.
2. Brunch time
Tel Avivians love brunch
The weekend brunch became a symbol of well-being and enjoying life. If Friday eve is dedicated to family and Shabbat dinner, then Friday mornings (and Saturdays too) are dedicated to brunches and Tel Avivians' second family – their friends.

You can see them sitting in the morning sun, with a baby stroller and their dog, indulging in fresh pastries, hot shakshuka and strong cappuccinos. The more generous the brunch, colorful and versatile, the more locals you'll see devouring it. Rothschild Boulevard, Rabin Square and Dizengoff St. are just some of the main areas to find your perfect brunch.
3. Juice city
Healthy lifestyle in Tel Aviv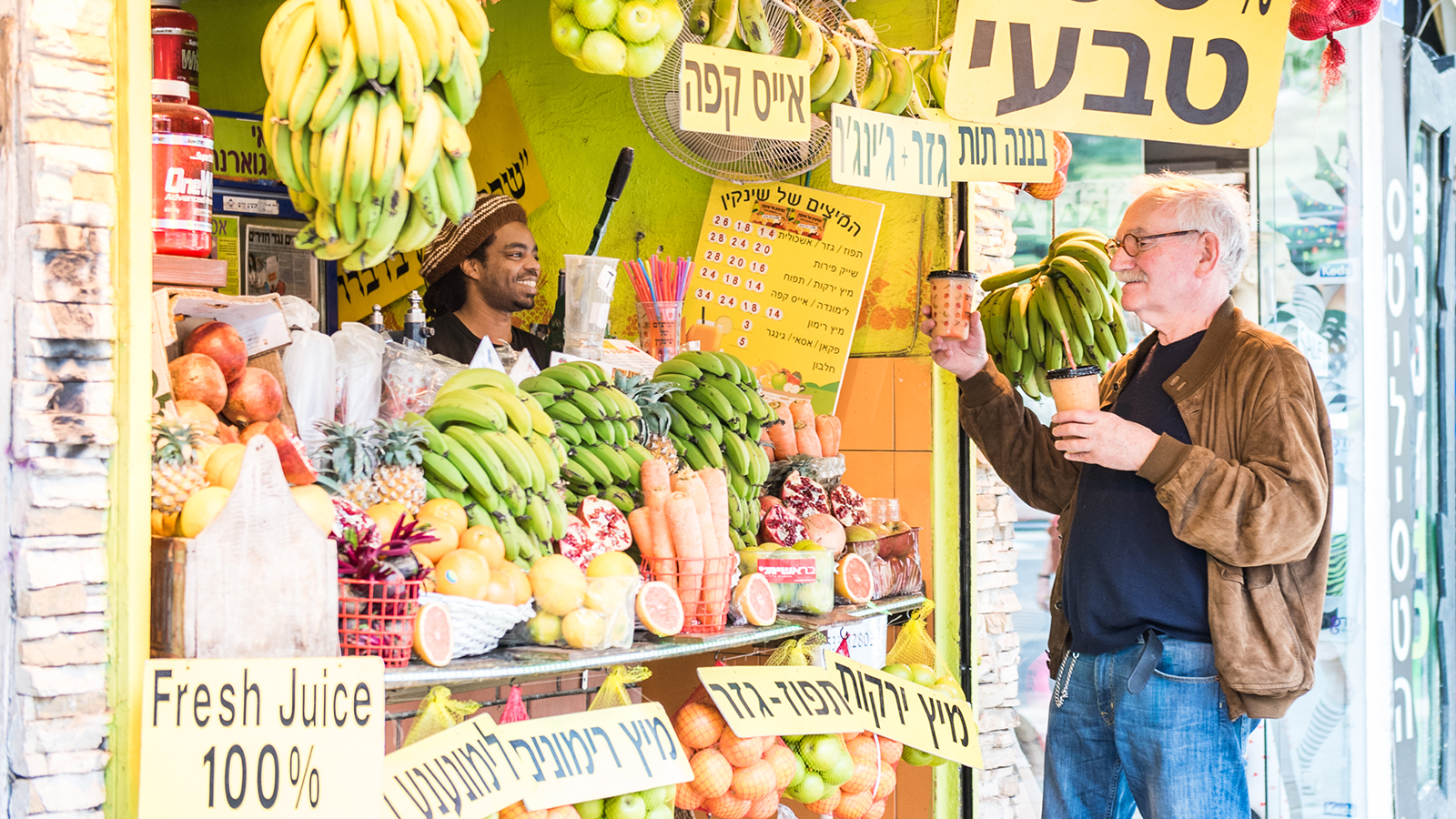 Like the rest of the world, the healthy lifestyle has flourished in Tel Aviv as well, with plenty of fresh food and juice stands all over the city.

One of the most popular juice stands in town, Tamara (Ben Gurion Blvd. and Dizengoff St.), offers a huge range of combinations: fruit juice, vegetable juice, muesli, home-made popsicles (when was the last time you had an apple-beetroot popsicle?) and even a wheatgrass shot for an energy boost. Ask for your favorite mix and relax on a bench along the boulevard to watch the passing crowd. This is the Tel Avivian way.
4. Sporty town
Workout outdoors
Tel Aviv's amazing weather allows locals to workout outdoors. The beachfront promenade (14 km long) and the nearby Hayarkon Park attract thousands of joggers, cyclists and other trainers every day. Put on your work-out gear and join the locals in their daily routine. If you want to step up your game you can always use the outdoor gym spots with fitness equipment, or join a beach volleyball game as spare players are always in need.
5. Hummus delight
Tasting Tel Aviv
Let's make a long story short: you're supposed to eat hummus at 8 am, but you'll find most Tel Avivians dipping pita bread into that amazing paste at lunch time (unable to return to work afterwards).

If you'll ask a Tel Avivian which is the best Hummus in town you won't get a clear-cut answer – it's like asking a child about his favorite parent. But if you'd like to try the best local hummus I would recommend Abu Hassan (14 Shivtey Israel St. Jaffa), Abu Aadham (7 Carlibach St.) or HaCarmel Hummus in the Carmel Market (11 HaCarmel st.).
6. Beach life
14 km of fine sand
Most Tel Avivians live in a walking distance from the beach and the beach is an integral part of life in the city. Each beach has its own character; two special beaches are the Dog Beach where locals bring their best friend with them to swim and roll in the sand, or the Drums beach where every Friday afternoon you'll meet a drummers' band which welcome the Shabbat with a lot of beat. This is the last chance to witness this 20 year old tradition as this coastal section is going under construction soon.
7. Romance
Mesmerizing sunsets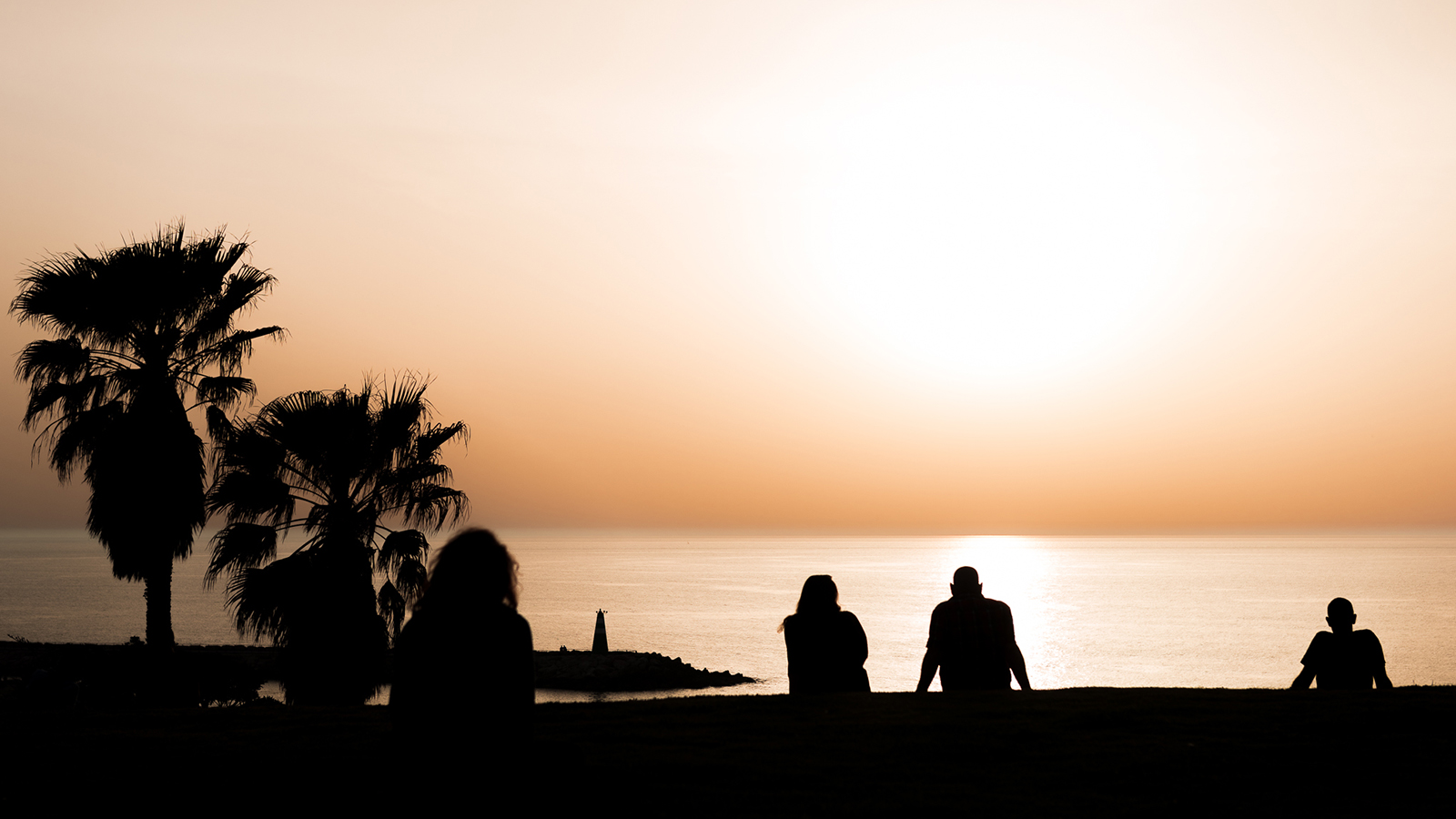 This is one of the most sweet and romantic places in town. Half an hour before sunset arrive at Ha'atzmaut Park (Hayarkon St. between Atarim Square and Nordau Blvd.), enter from the main entrance from Hayarkon St. and follow the main path, until you'll see a small hill on your right facing the sea. Lay out a blanket on the grass and enjoy the quiet and Tel Aviv's amazing sunset.
8. Dizengoff center
Don't get lost!
One trait that distinguishes Tel Avivians from the average person is the innate ability to navigate around Dizengoff Center without getting lost. This veteran shopping center, which consists of two main buildings connected by a system of bridges and underground passages, was designed inside as a spiral, which makes navigation quite the experience.

In Dizengoff center you can find everything from fashion stores to tattoo parlors, a cinema and two gyms. Don't miss the food market every Thursday and Friday in building B.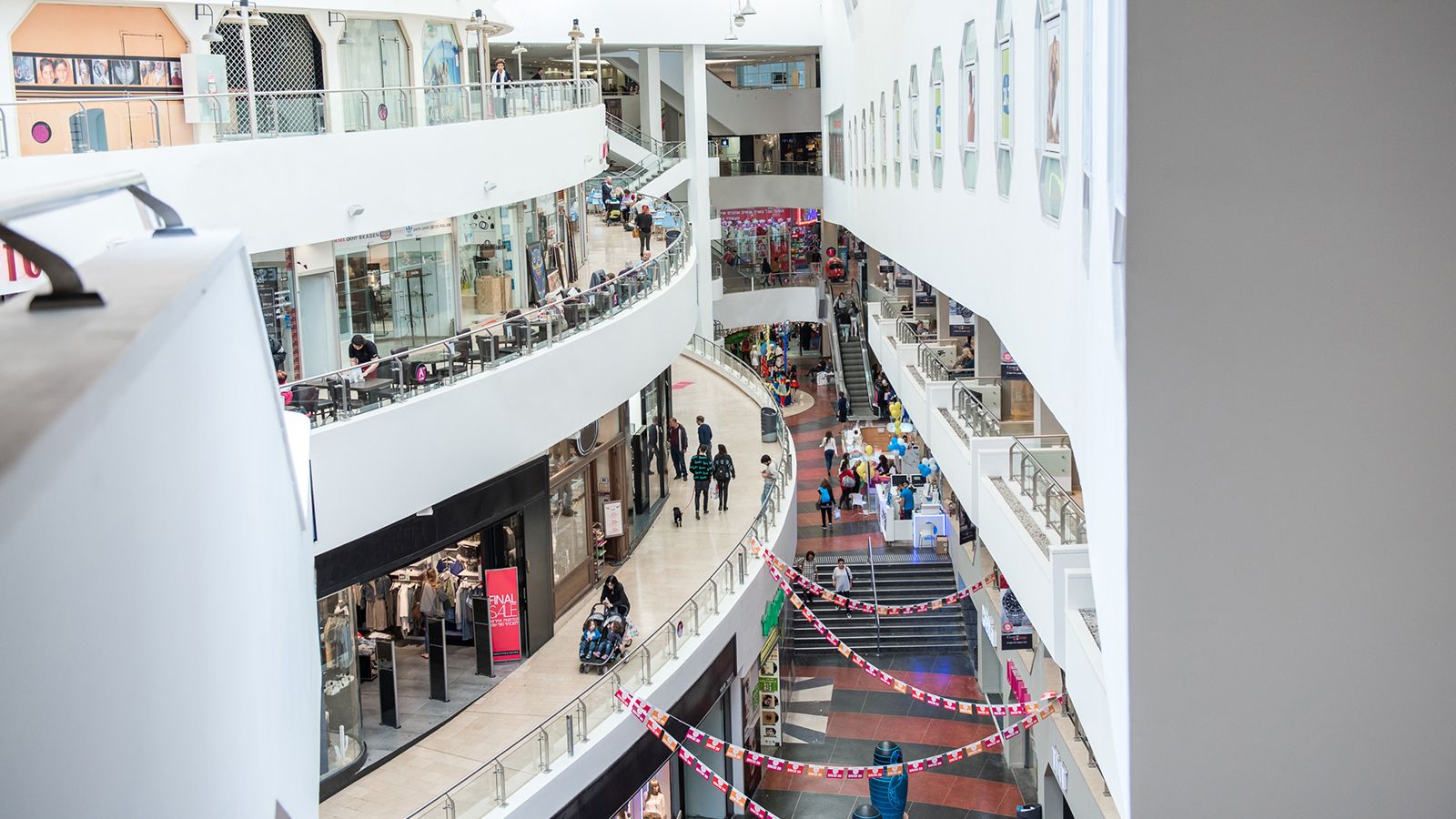 9. White City
Since 1930
Tel Aviv is also known as the White City, due to its beautiful Bauhaus buildings, an architectural style that was common in the 1930. This old buildings which are currently going under massive construction are restoring the city's classic style. In 2003 UNESCO declared the White City areas as a world heritage site, and nowadays you can find free walking tours to view these interesting different buildings.
10. Night life
Tel Aviv nightlife is endless
There are so many places to go to; it's almost impossible to visit them all. Tel Avivians are night-hoppers, they'll start early in one place, hop to the next place, and so on. The best place to do so is on Dizengoff Street, start from the northern part going south, go along, and hop from place to place, from small corner bars, to 1920's themed bars, to a big club, that's the Tel Avivian way to party.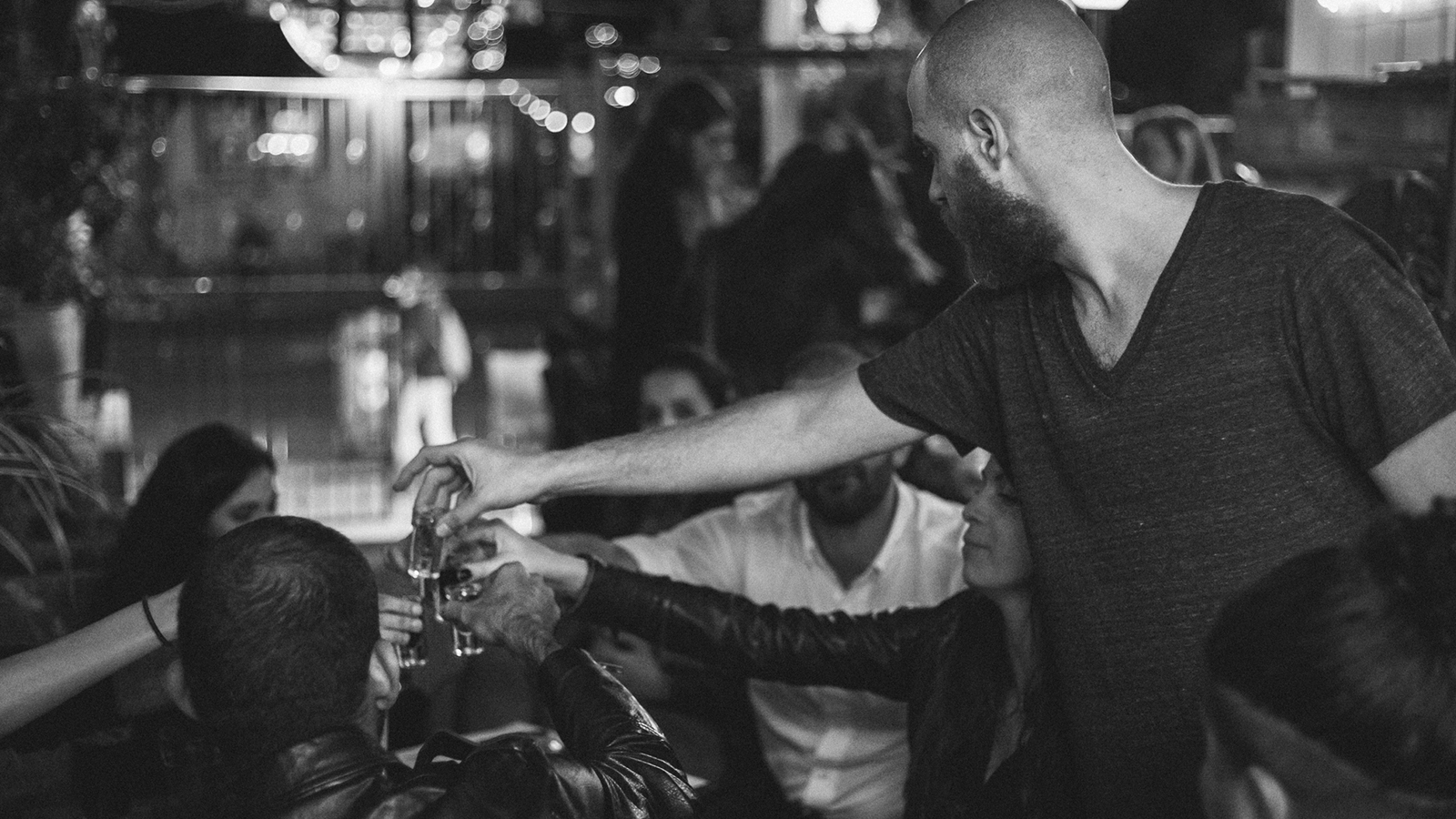 Follow us on Instagram @sheratontelaviv